Op de pagina "zeeschilpad" vindt u informatie over de plaatsen in de omgeving waar zeeschildpadden of "caretta caretta" nesten of genesteld hebben in de directe omgeving.

In het jaar 2010 hebben er voor het eerst in 30 jaar weer zeeschildpadden genesteld op het strand van Stoupa en Pantazi.


Peloponnese hosts 900 sea turtle nests per year (24.3% at national level) in the Bays of Kyparissia, Lakonikos and in Koroni. In fact, the Kyparissiakos Gulf constitutes the second most important beach of birth of Karetta in the Mediterranean. The nesting season commences at the end of May and lasts until August.


How YOU can help to protect the sea turtles:
- Keep the beaches clean. Don't throw plastic or nylon objects in the sea

- Switch off or cover bright lights which are visible from the nesting beach.

- Don't dig out the nests. The sea turtles, the nests, their eggs and the hatchlings are protected by Greek law and international conventions.

- Don't move nest signs or protective cages above the nests.

- Don't touch the hatchlings. It is important that they find on their own their way to the sea. - Don't light fires at night on the nesting beaches.

- Avoid using vehicles on the beach.

- Avoid going very fast in a motor boat, close to a nesting beach.

- Become a supporter of ARCHELON.

- Become a volunteer on our summer projects in Zakynthos, Peloponnesus and Crete or at our Rescue Centre in Glyfada.

- Become a member of the Rescue Network and if you find dead or injured sea turtles call us at (+30) 210 89 44 444.

- Adopt a hatchling, a mother loggerhead, an incubating nest or an injured sea turtle under rehabilitation.

- If you are 8 to 18 years old, you may become a member of CHELONOPAREA, our active youth club.

- Visit ARCHELON's website to learn all about sea turtle conservation in Greece.


Nesten: 2011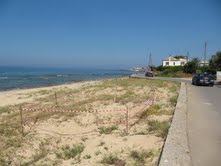 Nest bij Ag, Nikolaos

Nesten 2010: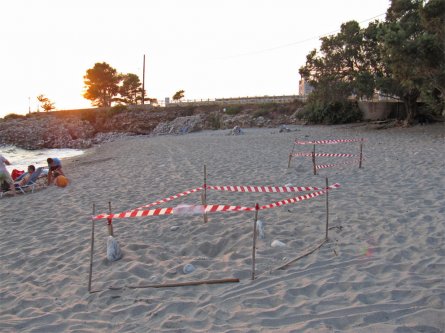 Nesten op Pantazi strand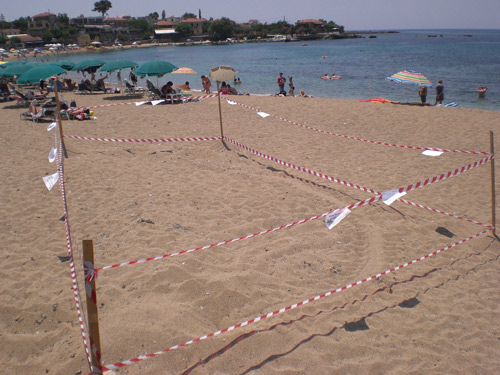 Nest op het strand van Stoupa